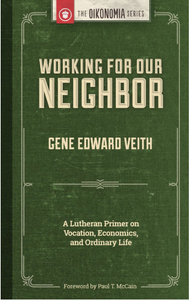 The Protestant Reformation was a catalyst for social mobility, universal education, and the rise of modern market economies. In his classic study The Protestant Ethic and the Spirit of Capitalism, Max Weber showed the connections between Protestantism and the new economics. Weber, however, focused on the Calvinists and Puritans and speculated that economic success became a way of proving one's election. He thus posited, with little evidence, a spiritual self-interest that was parallel to economic self-interest, distorting both Protestantism and capitalism.

Weber neglected the specifically Lutheran doctrine of vocation, which emphasizes the spiritual and moral value of economic activity. According to Luther, God himself is hidden in vocation, as he providentially works through ordinary human beings to care for his creation. In their work—not only in the economy, but also in family, church, and community—Christians live out their faith in love and service to their neighbors.

For Lutherans, the doctrine of vocation is nothing less than the theology of the Christian life. In its social impact, vocation gave a theological basis for the division of labor, social equality, and individual freedom. In this elucidating work, Gene Edward Veith connects vocation to justification, good works, and Christian freedom—defining how the Lutheran contribution to economics can transfigure ordinary life, and work, with the powerful presence of God.
Additional Book Info
Christian's Library Press