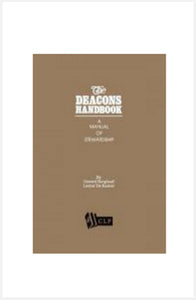 Regular price
$14.95
Sale
An invaluable resource for all who are, or will be, involved in the church's ministry of mercy. Includes chapters on the nature and history of the diaconal office, concrete advice regarding budget and finances, suggestions for enlisting congregational participation in diaconal service, and thought-provoking perspectives on giving and stewardship. Profoundly Christ-centered, solidly based on Scripture, lucid in presentation and down-to-earth in application. 
Let your loins by girded and your lamps burning, and be like men who are waiting for their master to come home for the marriage feast, so that they may open to him at once when he comes and knocks. Blessed are those servants whom the master finds awake when he comes; truely, I say to you, and he will come and serve them. If he comes in the second watch, or in the third, and finds them so, blessed are those servants!
Peter said, 'Lord, are you telling this parable for us or for all?' And the Lord said, 'Who then is the faithful and wise steward, whom his master will set over his household, to give them their portion of food at the proper time? Blessed is the servant whom his master when he comes will find so doing' (Luke 12:35-38; 41-43).
Lester DeKoster
Additional Book Info
Christian's Library Press