Rooted & Grounded: The Church as Organism and Institution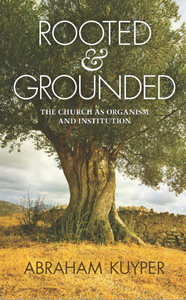 Originally presented by Abraham Kuyper as the Inaugural Sermon, delivered at the Nieuwe Kerk in Amsterdam, August 10, 1870.
"Abraham Kuyper preached his sermon 'Rooted and Grounded' at a time when the ground was shifting under the feet of the churches in the West. His sermon was, of course, not a comprehensive theological account, but he nonetheless provided in short compass an account of the church that answered the chief questions raised by modern society: What is the church? and What is its position in the emerging society?"
--From the introduction by John Halsey Wood Jr. 
Additional Book Info
Christian's Library Press