Living and Dying in Joy: A Devotional Guide to the Heidelberg Catechism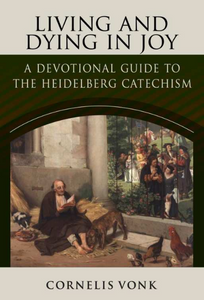 Regular price
$17.95
Sale
The title of this commentary on the Heidelberg Catechism takes its inspiration from the catechism's second question, which asks "What do you need to know in order to live and die in the joy of this comfort?" The comfort referred to is that which is described in the famous first question and answer, the comfort of knowing "that I am not my own, but belong with body and soul, in life and in death, to my faithful Savior Jesus Christ." The Christian art of living and dying in joy is explored in this guide to the catechism, which focuses on the biblical background and exposition of the grand themes of misery, redemption, and gratitude. This translation is published on the 450th anniversary of the publication of the Heidelberg Catechism as an aid to the devotional reception of this historic and continually relevant symbol of the Reformed faith.
With a foreword by the Rev. Frans van Deursen.
Co-published with Paideia Press.
"Simple, informative, and practical, this devotional takes us by the hand and leads us through one of the greatest summaries of biblical truth that the Christian church has ever produced. In Rev. Vonk's meditations you will find both sweetness and light for the soul, presented in a manner well-suited for personal devotions, family worship, or children's classes." 
--Dr. Joel R. Beeke, President, Puritan Reformed Theological Seminary,
Grand Rapids, Michigan
"Of all the Reformed confessions, the Heidelberg Catechism is one of the most-loved and widely-used in the history of the Reformed churches. Within a short period of time after its first publication in January 1563, Heinrich Bullinger (1504-1575), leader of the Reformed church in Zurich, wrote that it was 'the best catechism ever published.' Coming from the pen of one of the most influential Reformers of the sixteenth-century, this commendation of Bullinger was not only true at the time but also prescient. Now that 450 years have passed since the Heidelberg Catechism was first published, it still serves the churches as the one of best catechetical instruments for the instruction of church members in the Christian faith and an excellent 'rule of faith' (regula fidei) for the ministry of the Word of God through preaching. For this reason, the translation into English of Cornelis Vonk's abbreviated exposition of the Heidelberg Catechism is a welcome development. Consistent with Vonk's original intention, this popular treatment of the catechism will serve well as an aid to the instruction of catechumens. And, as the author of its Foreword observes, it may also serve well as a brief introduction to the Christian faith for those desiring to become members of the church, or as a devotional guide for Christian families. Clearly and simply written, pastorally wise and sensitive, and, most importantly, saturated with biblical insight―Vonk's exposition of the Catechism is a jewel."
--Dr. Cornelis Venema, President, Mid-America Reformed Seminary,
Dyer, Indiana
Additional Book Info
Christian's Library Press