Digital Contagion: 10 Steps to Protect your Family & Business from Intrusion, Cancel Culture, and Surveillance Capitalism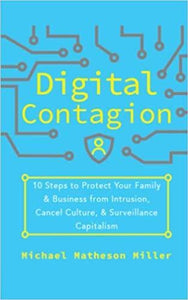 Regular price
$12.00
Sale
Digital technology has brought many benefits. But it also comes with growing threats to our privacy, our families and businesses, our health, and our freedom. From cancel culture and propaganda to data collection, surveillance, and social manipulation, there is a digital contagion. We are surrounded by countless technologies that influence our behavior and threaten our security and potentially our livelihood.
We live in a time of increasing centralization
Big State
Big Tech
Big Data
Big Education
Big Media
Big Healthcare
Big Culture
We need systemic changes - political and economic reform, better rule of law, and decentralized, private associations that limit the power of the state and large corporations. We also need new and better technology to serve people instead of manipulate them.
But we don't have to wait. There are steps you can take right now to help protect your family and your business. You can take more control of your digital life today.
Digital Contagion provides 10 practical steps you can do right now to help you protect yourself and your family, to make you more robust and harder to cancel, to limit your exposure to surveillance, data collection, and reliance on Big Tech.