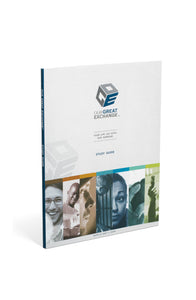 The study guide contains everything you need to get started with the Our Great Exchange DVD curriculum. 
7 weeks, 5 studies per week
As residents living and working each day in God's household, this in-depth, small group study explores why our almighty God entrusts us to be managers of, and collaborators in, his restoration project. This inspiring and insightful journey reveals the characteristics he is cultivating in and through us as we become the people he created us to be.