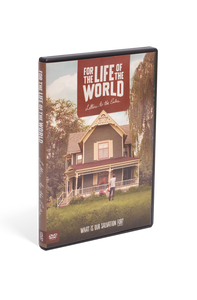 For the Life of the World is an entertaining film series and study that explores the deeper meaning of Salvation. Have you ever wondered, "What is my Salvation actually FOR?" Is it only about personal atonement, about getting to heaven, or something that comes later? Is it just to have a "friend in Jesus?"
Join Evan Koons and his friends – Stephen Grabill, Amy Sherman, Anthony Bradley, Makoto Fujimura, John M. Perkins, Tim Royer and Dwight Gibson – as they discover a "new perspective," the BIGGER picture of what it means to be "in the world, not of it." This seven-part film series will help you, your friends, church or organization investigate God's Economy of All Things – OIKONOMIA (a Greek word that has a lot to say about God's plan for his creation, the world, and us.)
This unique Feature Film Version was created to enjoy all seven episodes in one viewing experience – an excellent format for a one-time event.
Explore how God's purposes are woven into every area of our lives: family, work, art, charity, education, government, recreation and all creation! The Bible calls us Strangers and Pilgrims, living in "the now and not yet" of God's Kingdom Come on earth. We are also called to be salt and light, to have a transforming presence among our neighbors. Rediscover the role of the church and how our lives lived on earth matter in God's plan for the world.
Designed for deep exploration, the series invites viewers to watch the series again for new insights. Also, check out the companion Field Guide to jump-start group and individual investigation and enhance the film experience! FOR THE LIFE OF THE WORLD Field Guides are available for purchase at  shop.acton.org.
Regular price $25.00 Sale
Additional Product Info
SKU: 1743