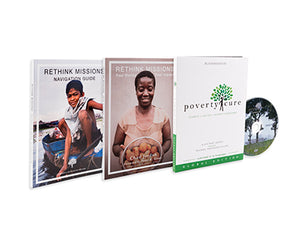 PovertyCure DVD: Join host Michael Matheson Miller on a journey around the world to explore the foundations of human flourishing, and learn how people are moving toward partnerships and pursuing entrepreneurial solutions to poverty rooted in the creative capacity of the human person made in the image of God. Meet religious and political leaders, entrepreneurs, missionaries, and renowned development experts, and discover the powerful resources Christianity brings to the pursuit of human flourishing.
This series is broken into six parts:
Part 1:

 

Charity that Hurts
Part 2:

 

The Entrepreneurial Calling
Part 3:

 

Justice for the Poor
Part 4:

 

Circles of Exchange
Part 5:

 

The Power of the Gospel
Part 6:

 

Churches, Communities & Culture
Excellent for use in small groups, ministries, colleges, and universities.
Dubbed in English and Spanish.
Subtitled in English, Spanish, French, German, Dutch, Italian, Lithuanian, Mandarin, Polish, Portuguese, Hindi, Korean, Turkish, Arabic, and Russian.
Bonus materials, including the PovertyCure Statement of Principles, video shorts, and series trailer, can be found at www.povertycure.org. 
Rethink Missions Navigation Guide: This full-color, magazine-style guide allows you to engage with the PovertyCure Video Series at a deeper level while forcing us to answer questions that will allow our missions and charity efforts to have the highest level of impact possible. This enables you dive in to determine your next steps through prayer and reflection. It's perfect to take along with you on your next journey! 
Rethink Missions Real Stories, Real Impact:  Is it possible that charity and missions efforts have unintentionally harmed those whom we are trying to help? Through real stories form the developing world, this book will provide you with a better understanding of how to ReThink your current missions efforts in ways that allow for maximum impact on those you are seeking to help. This quick read connects the ideas of PovertyCure to real examples and shows what it practically looks like when we rethink poverty and rethink missions. It also draws from many great resources including When Helping Hurts and Toxic Charity, giving a quick snapshot of perspectives.
Regular price $44.95 Sale
Additional Product Info
SKU: 2033